Voting is open from August 15th - 22nd. Click the icon or follow the links below to vote online.
Call the church office between August 15th and 22nd.
260-447-3578
Attend the 9:00 or 10:45 service on August 15th or 22nd to cast your vote in person.
The FMC Elder Team is comprised of faithful, dedicated men who love and care for the Fellowship Family. They support and encourage our church family and nurture the staff. As part of each Sunday morning they pray with and for our people, offering encouragement and guidance. They are also involved in the spiritual and physical well-being of the FMC Body throughout the week.

Here are the profiles of the Elders who are seeking your affirmation.
Click on each Elder's name to read a bit more about them.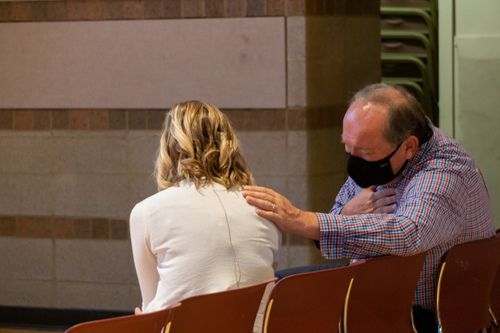 What's the difference between a governing Elder and a shepherding Elder?
The Elders are charged with the spiritual and financial health of the church. They continually and intentionally cover the church and its attenders in prayer and are available for support and guidance.

Governing Elders sit on the board and are involved in the process of evaluation, discussion, and voting on key issues of these areas.

Shepherding Elders continue in their commitment to the spiritual health of the church but do not participate in voting.
As we enter into a new ministry and fiscal year for Fellowship, there's no denying that it's been a year of changes and adjustments. Through it all, we have experienced God's presence and guidance, His direction and provision, and we praise Him for His faithfulness.

After prayer and planning, the FMC leadership presents a budget for 2021-22 that represents a $309,049 decrease over the past year's budget. We are aware that further adjustments are necessary and will continue to make changes to keep Fellowship solid and strong.

Thank you for standing with us in this new season and for the part you play in Fellowship's mission and desire to have impact for God's Kingdom.
As you review the budget and Elder information, you may have questions. Elders will be available to address your questions on the Sunday mornings of August 8, 15 and 22.

The affirmation/vote will be held online beginning August 15 and ending at 5:00pm on August 22. If you have need of a paper ballot, they will be available on August 15 and 22 in the Atrium or through the week at the church office.

In the meantime, if you have any further questions please let us know by filling out the form below. We'd love to connect with you!